Crunchy Pinto Bean Salad Sandwich
So another week begins. I hope you had a great weekend.
We went to see the new Jurassic World movie and I really liked it. Then I drove up to Sandpoint yesterday with my sister and we hiked to Snow Creek Falls and took lots of photos and video so I'll be sharing that soon.
I also did some recipe testing over the weekend. Tell me, were you a fan of tuna, egg, or chicken salad sandwiches as a kid? Did you ever consider what it might be like to star a bean in this recipe? I really hadn't so that's why I was extremely surprised at how good it was the first time I tasted one. I think it was a garbanzo bean salad, which is probably the most common, and it was so good I knew I wanted to try one in my own kitchen.
When I decided to make it I didn't realize I was out of garbanzos so I went to grab an alternative. Pinto beans have always seemed less common to me. I mean, if you love refried beans for taco night then you probably eat them a lot but we don't think about the refried beans being pintos. It's similar to how so many tomato-haters still love ketchup or pizza sauce. Sometimes we just don't think about food, you know?
My brother absolutely detests onions and mushrooms but he has no idea that they're in so many of the dishes he likes. It's just kind of funny. So for this recipe I put the salad on bread to make a sandwich but it's also great with crackers, chips, wraps, or even on a bed of greens. I think my favorite part about it is that you can add all types of fresh veggies that you've got on hand. However, I'll definitely recommend the riced cauliflower because it gives this perfect crunch.
I also added a handful of chopped walnuts and some pepitas for a little more crunch but any nuts or seeds that you prefer can be used instead. This is just a great Spring/Summer recipe for picnics or easy lunches. It takes almost no time to mix the ingredients together and then it's ready to enjoy. 😉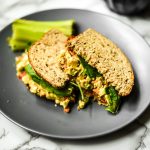 Crunchy Pinto Bean Salad Sandwich
Chickpeas are great, but have you ever tried pinto bean salad? This recipe is a great way to expand your pinto horizons past refried beans.
Ingredients
1

15 ounce pinto beans, drained and rinsed

2

tablespoons

diced onion

2

tablespoons

earth balance mayo

2

tablespoons

mustard

2

tablespoons

sweet pickle relish

1

tablespoon

sriracha

1

bell pepper

seeded and diced

1/4

cup

walnuts

chopped

3

tablespoons

pepitas

1

cup

fresh cauliflower

riced

1

tablespoon

nutritional yeast

sea salt & black pepper to taste

sandwich bread

can be gluten free

lettuce or spinach

fresh tomatoes. sliced
Instructions
In a medium mixing bowl, add about 1 cup of the beans and mash it together with the onion, mayo, mustard, relish, and sriracha. Add in the chopped veggies and nuts then season to taste with salt and pepper.

Serve on a sandwich or as desired. Store in an airtight container in the refrigerator.