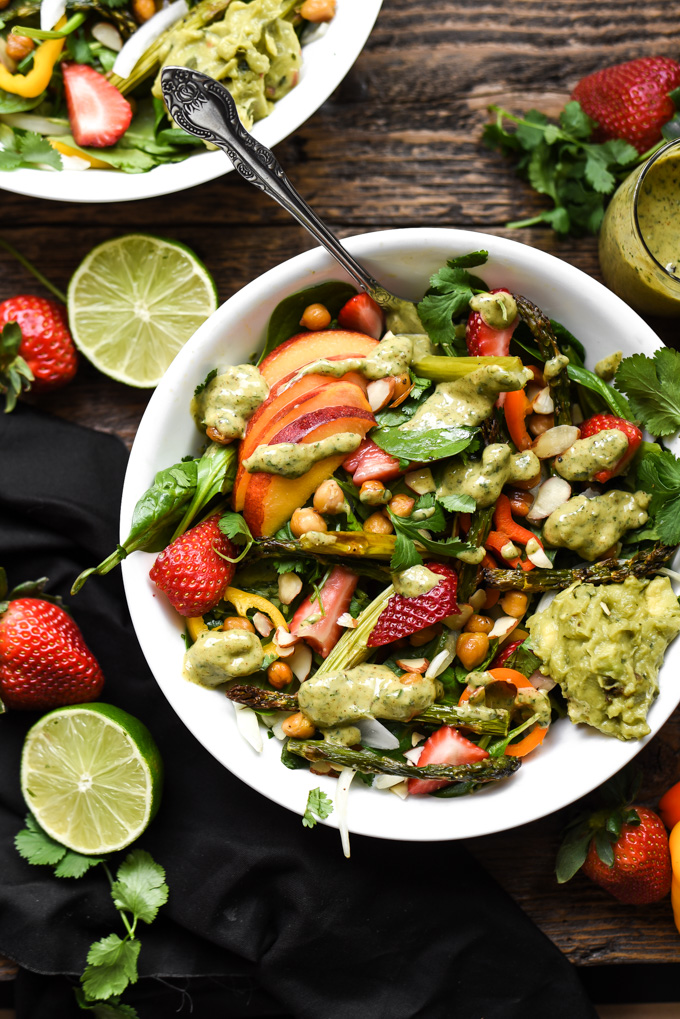 Springtime Vibes Salad+Cilantro Almond Butter Dressing
You guys, this salad!
Omg, in case the name didn't give it away, this salad is inspired by both my trip to California (which as I write this I'm about to pack but if your reading it I'm probably chilling in San Diego by now) and all things Springtime as well. It's basically a little celebration in a bowl about the approach of warm weather and longer daylight hours. I can't wait to share my trip with you later this week. I can guarantee I'll have way too many pictures.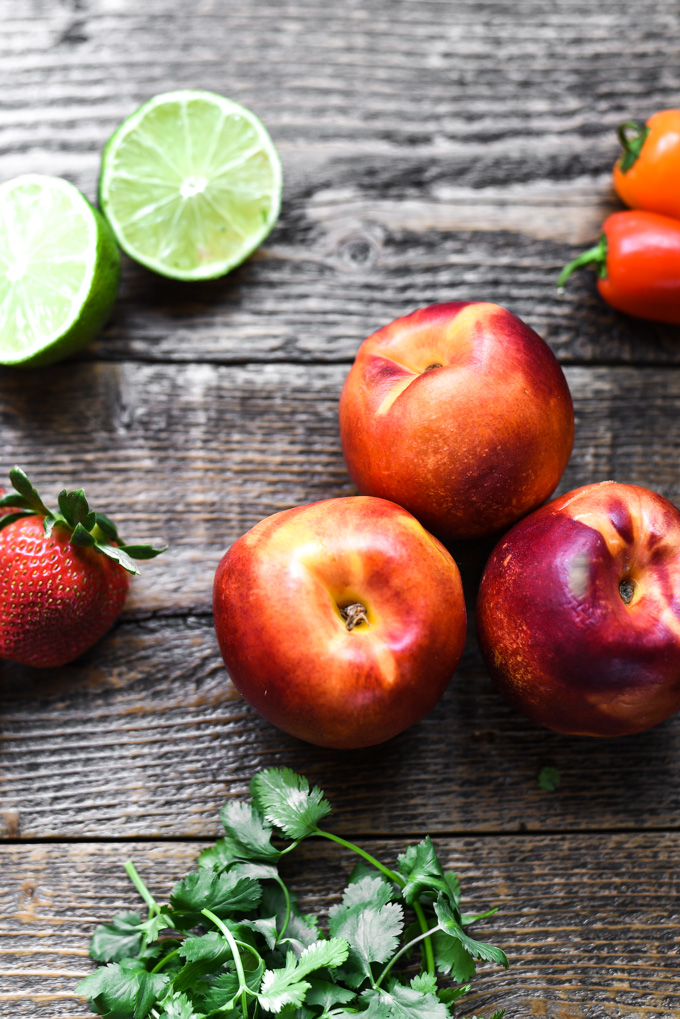 I've heard a lot of you guys saying that it's been really cold where you live in different places across the US and even Europe, so obviously this doesn't apply to everyone, but up here in the Northwest the groundhog must not have seen his shadow because the weather has been really unusually warm. After a few months of pretty cold weather and snow, I'm pretty okay with this. As you can see I'm totally gearing up for Spring.
So I have this really big problem when I start to plan out a salad, there are no rules. Now I can see how this would be a problem in an opposite way for many people because they don't even know where to start. For me though, I can hardly find where to stop because when I start on all the colorful veggies and toppings I just get too inspired and want to add literally EVERYTHING!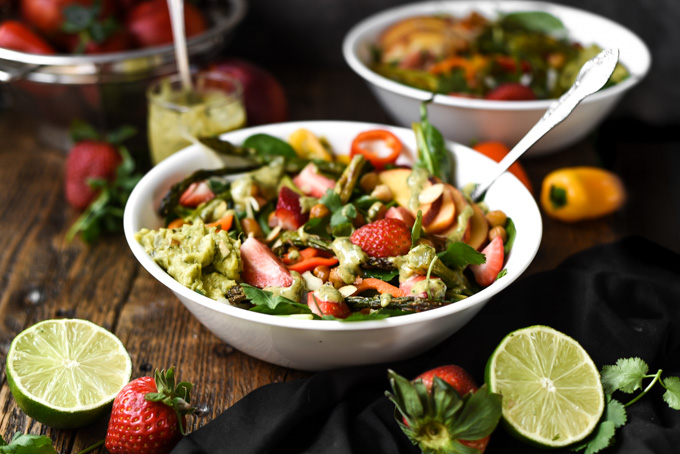 It's alright, I just make it a rule for myself to not put more than with fit into a large bowl.   good news for you because that means if there's an ingredient you don't have or don't like it can be easily left out and you'll still have plenty of flavors going on.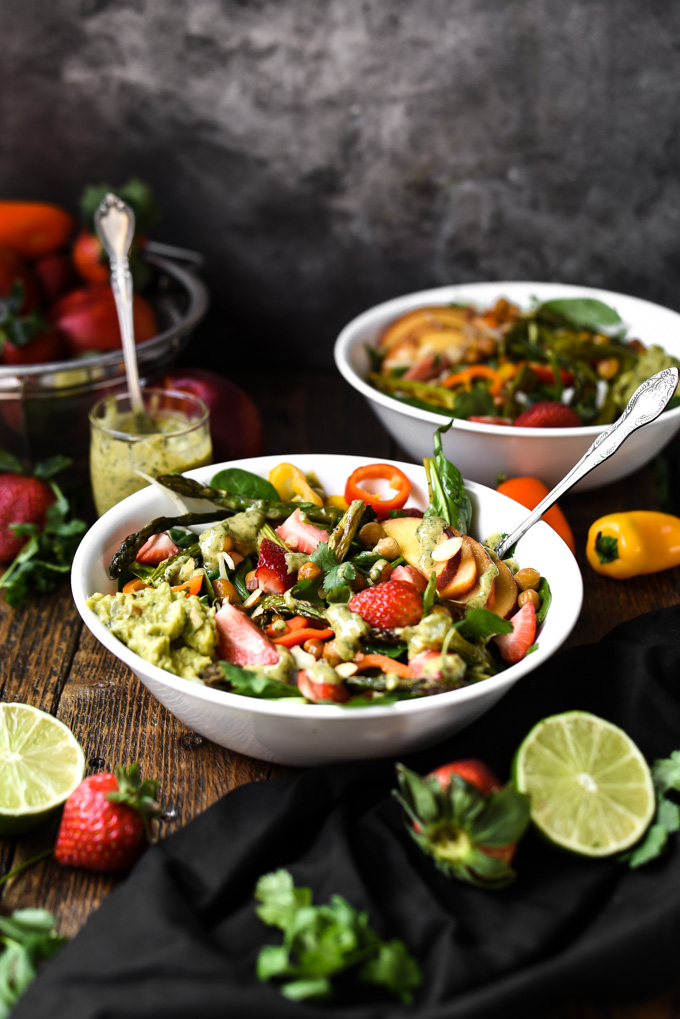 The key player on this salad is definitely the dressing. I know it's not completely an original idea to use nut butter as the creamy factor in a sauce (hello Thai Peanut sauce) or dressing but almond butter was a first for me, and wow, YUM! The cliantro with the citrus adds a ton of deliciousness too, so the final dressing is one you'll be going back to over and over.
The rest of the ingredients were partly just what I had in my fridge that I wanted to add. Because if that I honestly had the hardest time choosing a name for it. I think that, other than the dressing of course, the best part might have to be the roasted asparagus and chickpeas. Oh, and if you're ever think that somehow my kitchen is perfect, well just know that I have real life moments too. For example, I'd planned to have a beautiful sliced avocado for the photos, but you know, sometimes avos decide to ripen faster than you use them. Hence the choice to go with guacamole.
I also love these type of salads because they can be made into a meal by adding some extra protein and even cheese if you like, or served as a side as is. The recipe as it is is vegan and gluten free, so that's a plus.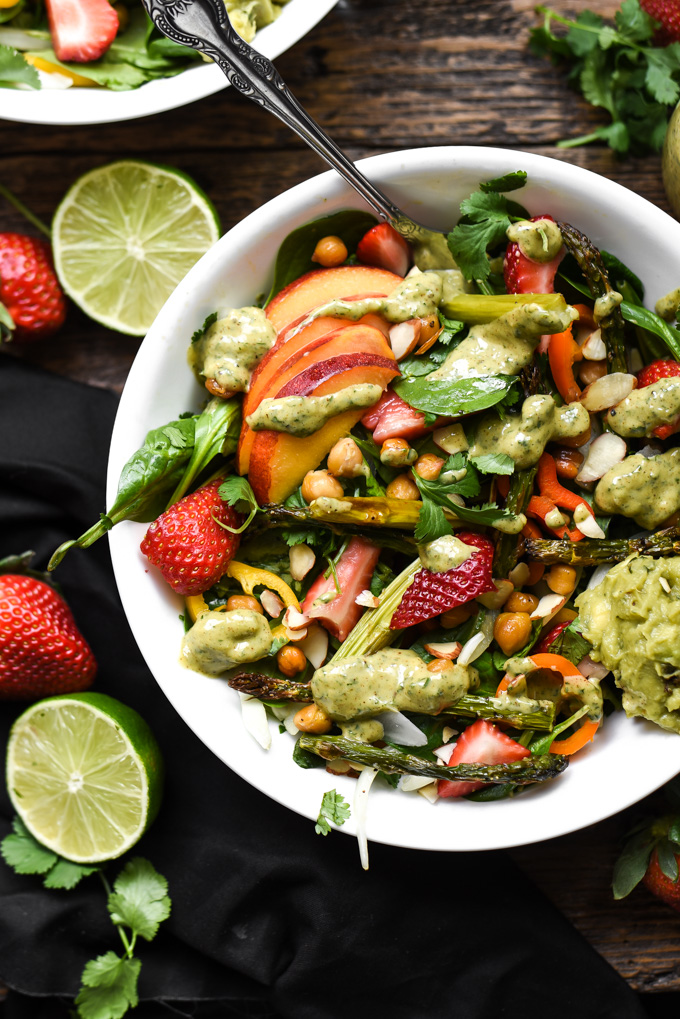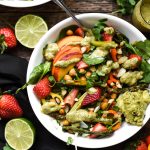 Springtime Vibes Salad+Cilantro Almond Butter Dressing
A fresh and fruity filled salad topped with a dressing that's super creamy without any dairy. This is a great one for Spring and Summer!
Instructions
Roasted Chickpeas & Asparagus:
Preheat oven to 400 degrees F (200C) and toss the asparagus and chickpeas with olive oil, then season to taste with salt and pepper. Bake for 30 - 45 minutes until the chickpeas are golden brown and the asparagus tender.
Salad:
Toss together the spinach, cilantro, onion, peppers, strawberries, and nectarines in a large salad bowl. Top with guacamole, slivered almonds, dressing, and roasted chickpeas and asparagus.

Cilantro Almond Butter Dressing:

Combine the ingredients for the dressing in a small food processor or blender and pulse until smooth. Store in an airtight container until ready to store.