Print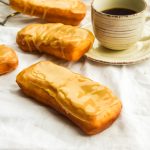 Homemade Maple Bar Doughnuts (Vegan)
Maple bars are a favorite classic made so much better by creating them yourself. You might be surprised how easy they are to make.
1

tablespoon

active dry yeast

1/3

cup

sugar

1

cup

slightly warm water

1/2

cup

full-fat coconut milk

1/2

teaspoon

salt

2 1/2

cups

all purpose flour

Oil for frying
Maple Glaze:
3

cups

powdered sugar

2

tablespoons

almond milk

2

tablespoons

pure maple syrup

1/2

teaspoon

maple extract

1

teaspoon

vanilla extract
In the bowl of a stand mixer (or a large bowl if doing by hand), dissolve yeast in water and allow to sit for about 5 minutes until bubbly. Stir in coconut milk and sugar, then and salt until combined. Add flour a cup at a time until it comes together into a smooth dough. Place in a greased bowl, cover with a damp towel or plastic wrap, and place in warm place to rise until doubled in size, about 2 hours. (Alternatively, you can refrigerate the dough overnight.)

On a lightly floured surface, roll the dough into a rectangle roughly 1/2 an inch thick and 10x12 inches. Cut into 10 bars (about 5 x 2 1/4in) and place bars on clean tray in a warm lace to rise for about 45 minutes.

While the bars are rising stir you're glaze together. Whisk syrup, vanilla, milk, and salt in a medium bowl. Add powdered sugar a cup at a time and stir until smooth.

Heat about 3 inches of oil in a large high-sided skillet or pot to 350 degrees F (180 C). Gently lift 2 to 3 bars at a time and drop carefully into oil. Fry on each side for 35 to 45 seconds until golden then flip and repeat on other side. Use tongs or a slotted spoon to gently lift them out and place on a plate lined with paper towels.

Dip bars in glaze while still warm and again after slightly cooled then place them on a wire rack to dry for a few minutes before serving.