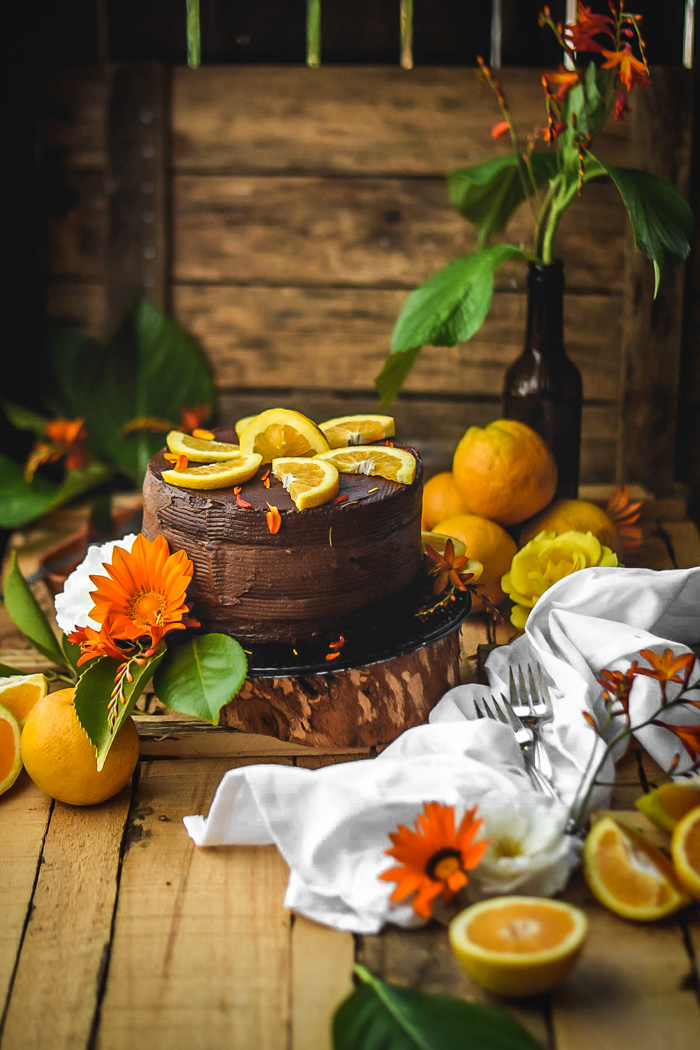 Chocolate Nutella Orange Cream Cake
Have you noticed that I seem to rotate back and forth between savory and sweet moods.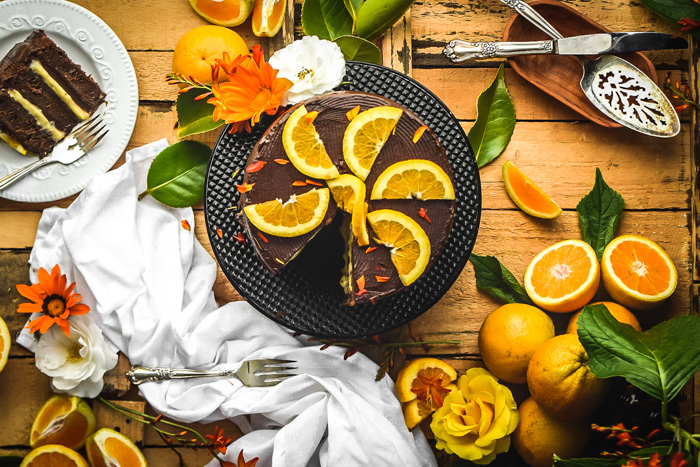 I realized this week that it had unintentionally become the norm for me to lean towards sweets more often than not. At least, that's how it was for a while and it was especially that way during the Holidays. Then for some reason I've been in more of a savory mood so far this year. It's probably all the talk about a fresh new year and starting out healthy. I don't know.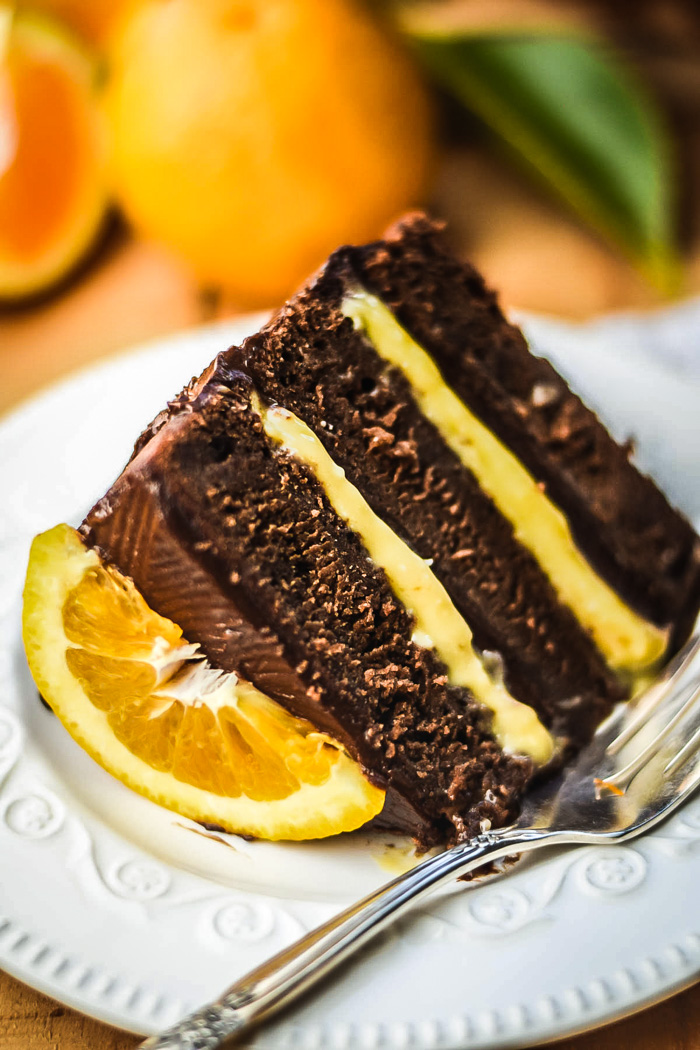 Whatever the case, I've definitely had an easier time coming up with ideas for salty snacks and fun new dinners than I've had dreaming up new treats and desserts. Don't worry though, because chocolate can always find a place in my plans and, in my opinion, one of the best forms to devour chocolate in is cake!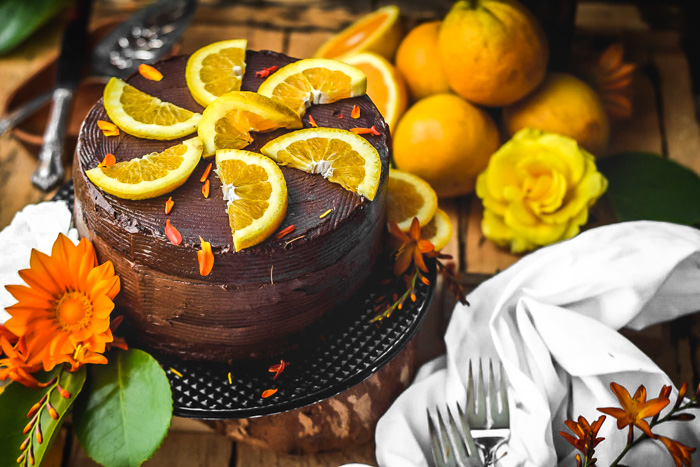 By the way, to say that cake is going to be on my mind a bit for the next two to three weeks is an understatement. I mean, I already mentioned recently that I'll be making a wedding cake for a friend's wedding soon, but then there are also two other birthdays as well around the same time, not to mention that after that my family literally has birthdays every few weeks.
Hey, can you guys can keep a secret? 'Cause I might give you a little inside scoop to the design the bride and I talked about over the weekend. I met with the her this past Sunday and the first thing I wanted to know was whether or not she wanted to go modern or traditional, and as I expected, she said traditional is more her taste, however she also wanted the groom to be happy about the cake and when we asked him about it he loved the idea of a non-traditional cake with some unique personal touches. The final decision is that I'll be doing a split sided cake; his side and her side.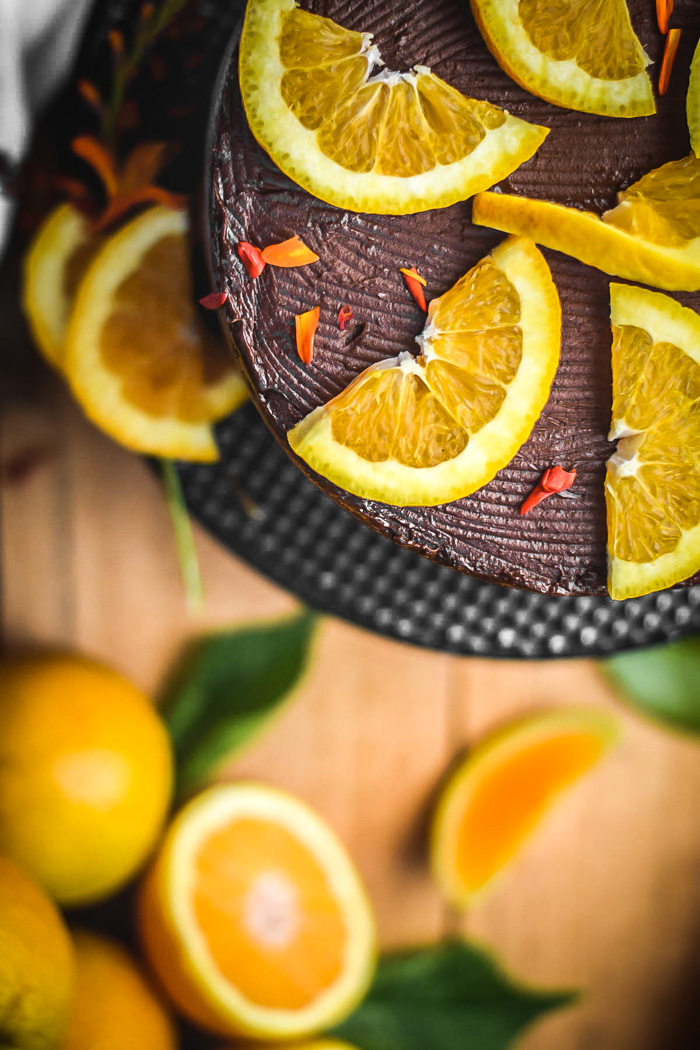 For a little bit more specifics, they're both fans of Playstation and some of his favorite things are The Walking Dead, wrestling, and soccer (no surprise here, this one is pretty much a mandatory favorite in Latin America). I'm just saying, the groom's half is going to be fun and probably a little challenging too, but I'm excited about doing it even if I am slightly freaking out. On her side she wants a simple and elegant base of white buttercream with a cascade of natural flowers diagonally across it all the way down. It's going to be so lovely. Oh, and she also wants a few of her own personal touches to be included as she loves music, books, and trees, but for it to just be really feminine was her main request.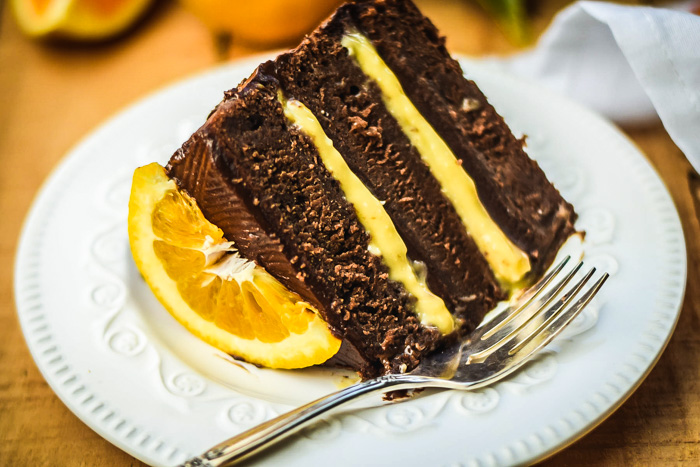 Yeah, so I've got my work cut out for me. Oh my goodness, my family is joking that I'm not going to sleep at all this month and the truth is that I can't say they're wrong. Good thing I love to be busy. Alright, but today's cake is actually a recipe that I created for this weekend since it's my boyfriend's birthday and it's the flavor he wanted. When he said chocolate orange cake sounded good and I realized that it's a flavor I've never done for the blog I knew it had to be one I shared with you.
Speaking of guy's tastes versus girl's, I have to tell you, this flavor combo is one that makes me want to laugh a little. You see, I was raised by a dad who was always trying to convince me that, with the possible exception of berry pie, fruit in dessert is just not acceptable and then fruit with chocolate is even more outrageous. My mom on the other hand, has always been a lover of fruity sweets which has been the source of a few very entertaining debates between the two of them over the years. Super funny.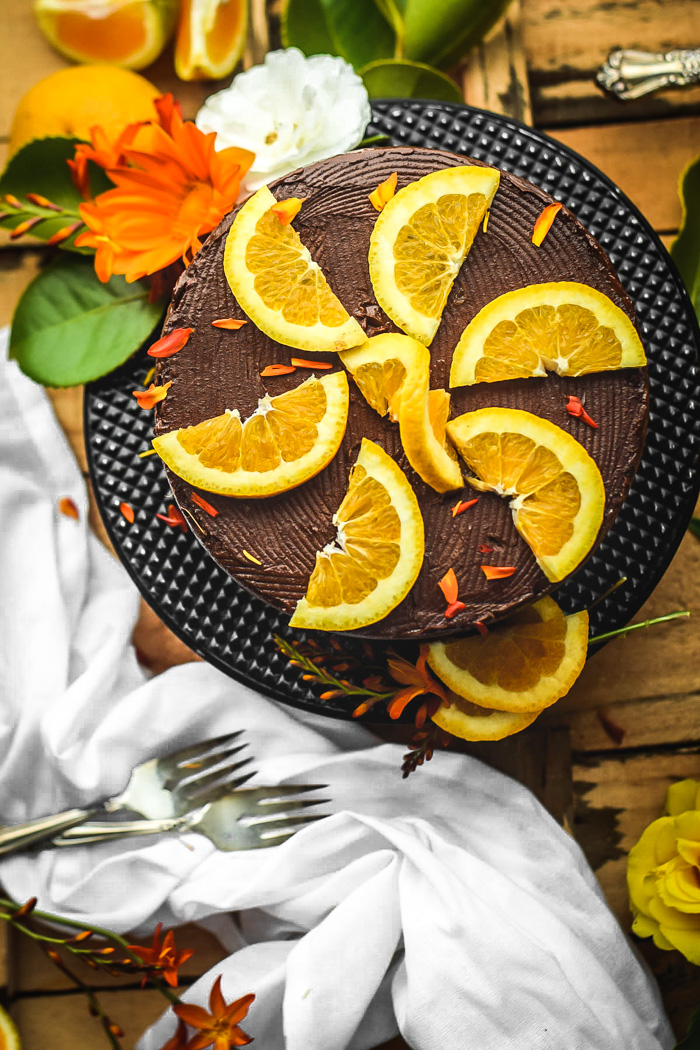 I happen to love orange and chocolate together and if you are also a fan then I'm thinking this cake is for you. I couldn't resist the urge to add a little something more though, so Nutella found its way into the recipe and I think it adds that perfect little touch that might have been missing. I'll be making this cake again for a pretty big group this weekend and if you try it too, I'd love to know what you think!