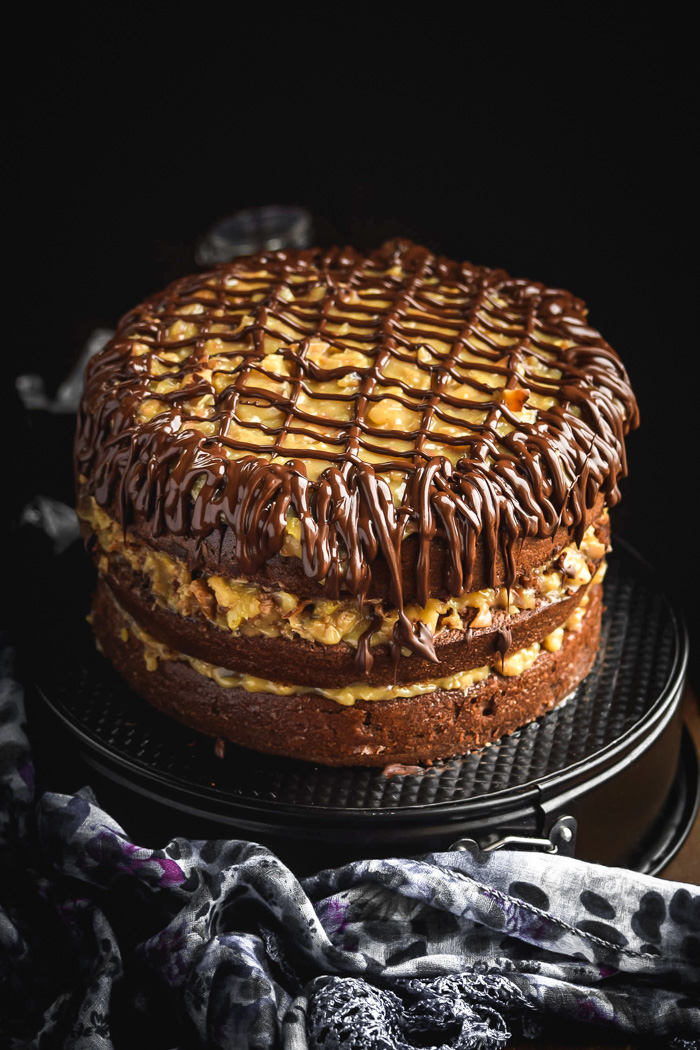 It's a classic for a reason….and I think it's a pretty obvious one. It's the best!
When I say the best I mean in general as a thing, not that my recipe is the best. Although, it's a pretty good one. Plus, I may have been told by friends and family that this recipe really is the best, but I've recently come to realize how little a claim such as that means in the vast sea of available recipes on the internet.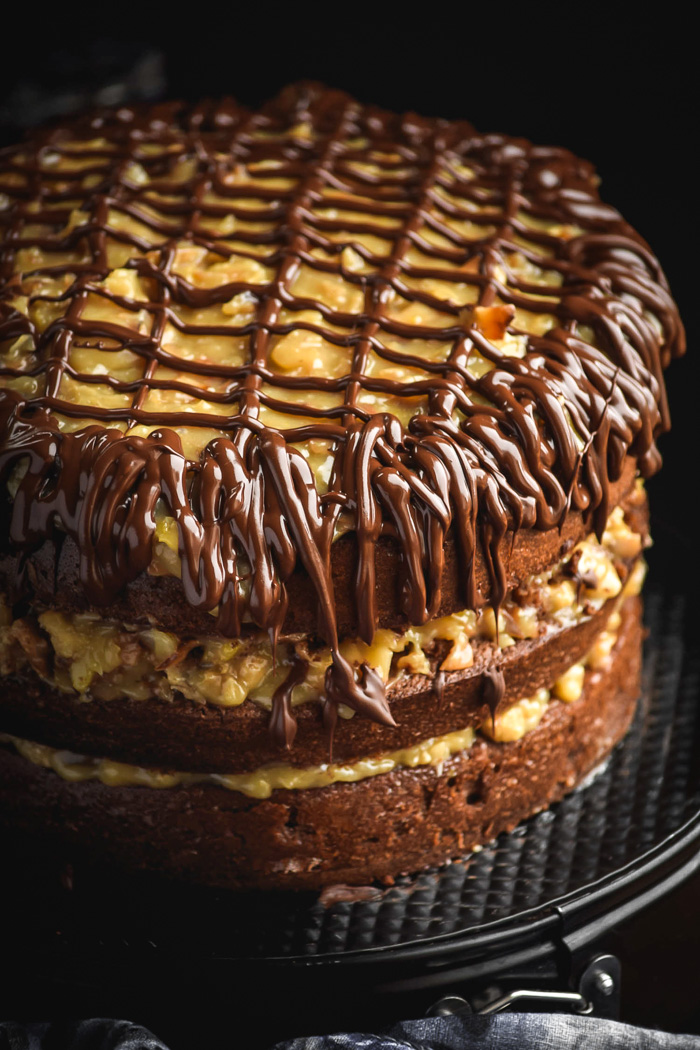 You may find this hard to believe but, as of this moment, I don't own a cookbook. Not even one. My mom used to have a huge collection that I never truly appreciated when I was too young to cook. Although, I did love looking at all of the yummy pictures (especially the sweet stuff) and wanting to eat them all. I could spend hours looking at that collection now, but unfortunately a few bookshelves worth of heavy paper would have been a little challenging to carry in a suitcase so they didn't make the final cut when we moved. Alas, I will mourn them forever. Not really, I just wanted to say alas in a dramatic way, but I do sometimes miss having something tangible to hold onto.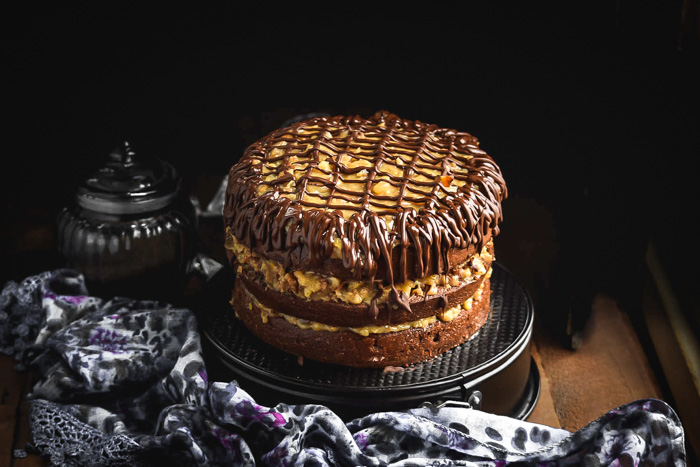 That's where the internet comes into play. You probably all know people who are a little slow to catch on to the internet and how much it plays a part in the lives of this generation. Maybe your parents or grandparents? Someone who doesn't understand the possibilities available because of it or "doesn't need all that computer stuff". Well, I recently met someone who was unfamiliar with things like blogs and it's the first time in a long while that I've been asked to show my blog and explain things.
You know, it's harder than you'd think and it made me realize that from the perspective of a typical cook my recipes seem pretty out-there. I tried to explain the reasons why a blog about basic recipes is tough to sell these days and why a blurry snapshot of a plate of unidentified food won't exactly bring readers in droves. I'm not sure how well I explained it all. In fact, I probably made zero sense. It did, however, make me feel like it was time to post a classic recipe, done well, and I just so happened to have this one on my list.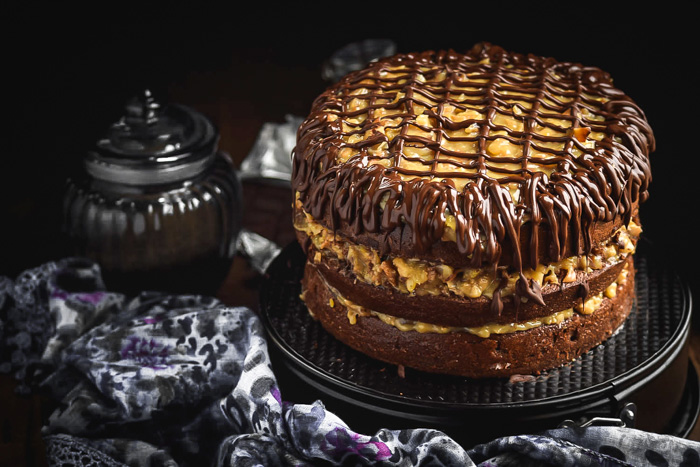 Remember that coconut I showed you on friday? Well, this is one of the ways I decided to use it so far. I toasted it up and used it in place of dried. The texture is different and the flavor is more mild than that of dried but I really liked how it was in this cake. Of course, I don't expect you to feel like hacking into a coconut before making this so feel free to use dried and just know that fresh is an option.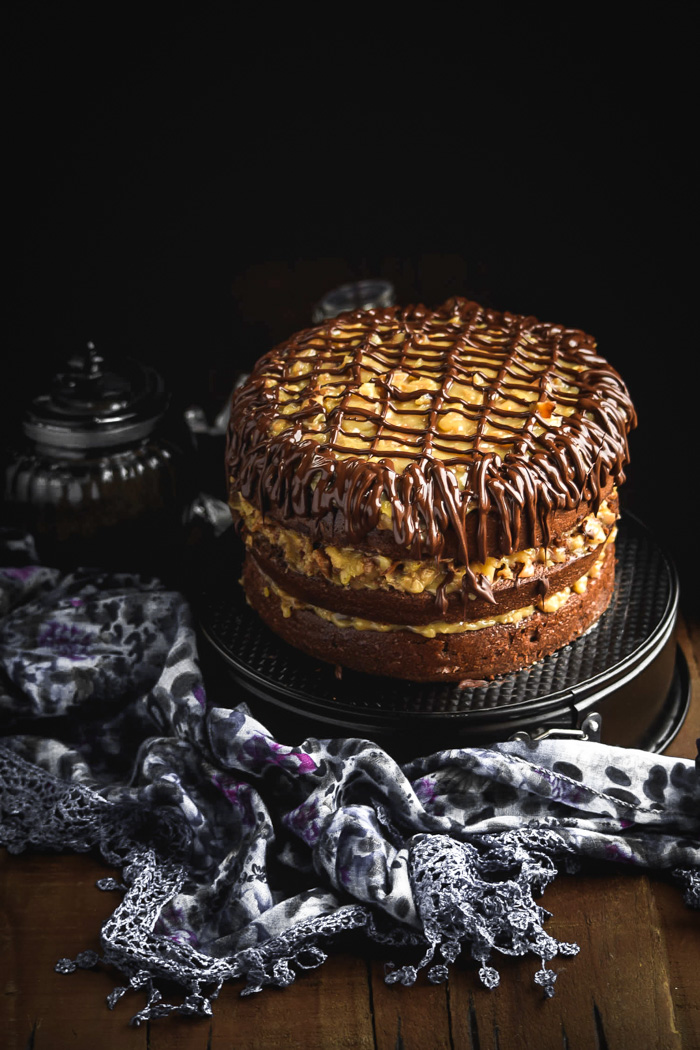 So even if this isn't the most amazing German chocolate cake recipe in history, I feel it's my duty to recommend it to you guys. You know, because that's what you do when you find a major keeper; share it with your friends.