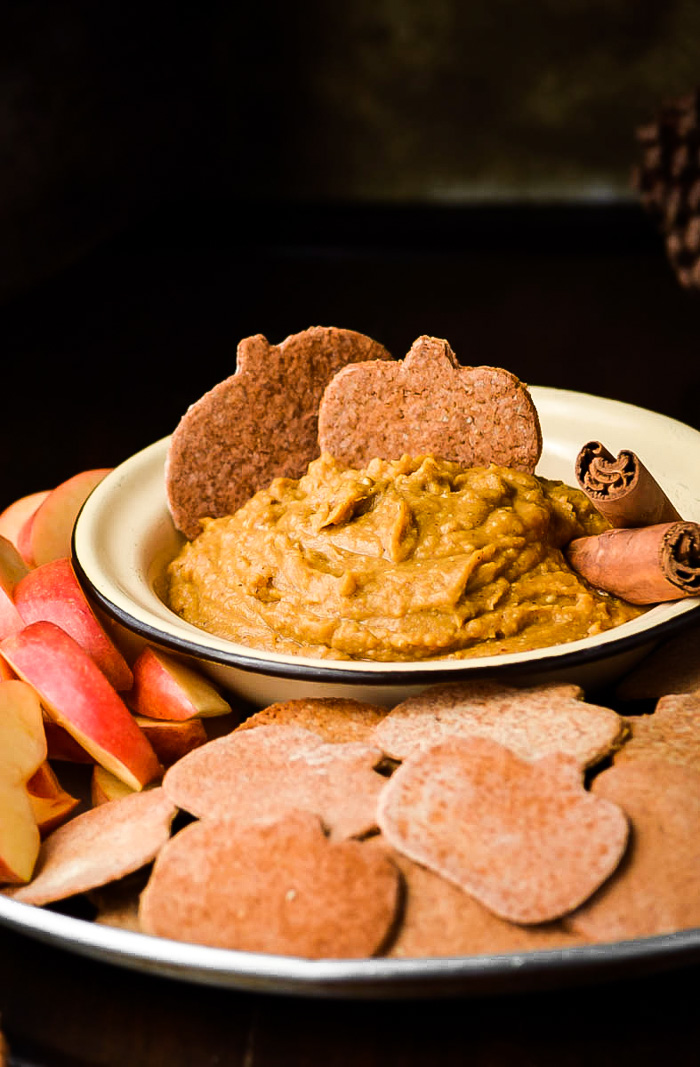 Healthy Pumpkin Pie Spiced Hummus with Cinnamon Graham Crackers (Vegan)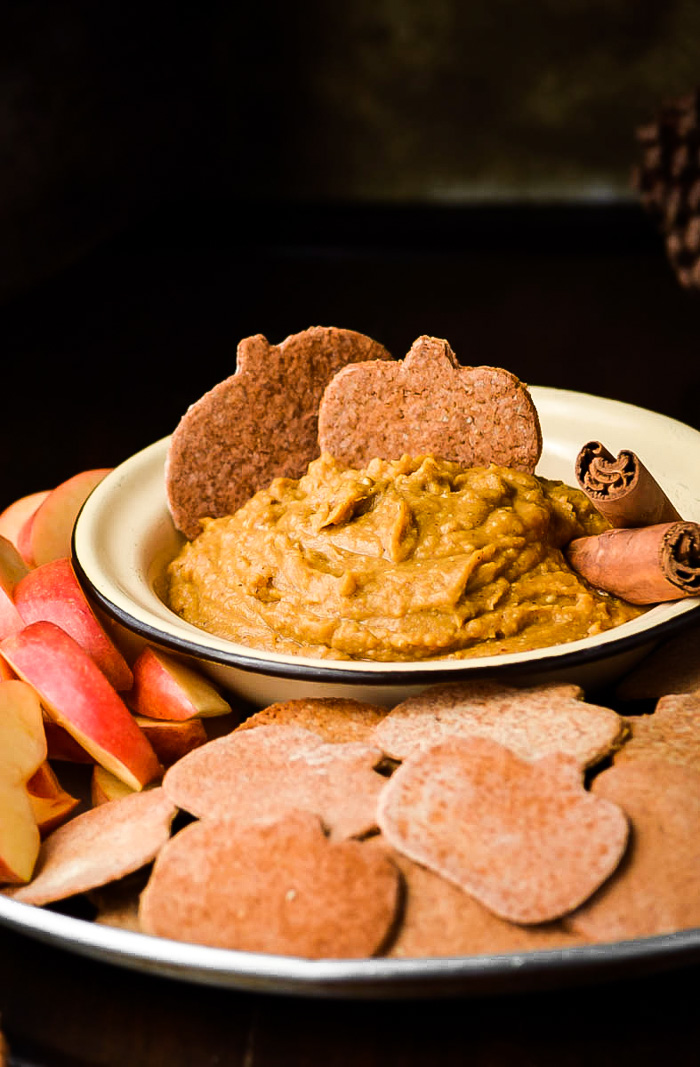 So it's finally starting to feel consistently like Fall which officially means it's time for #pumpkinspiceeverything.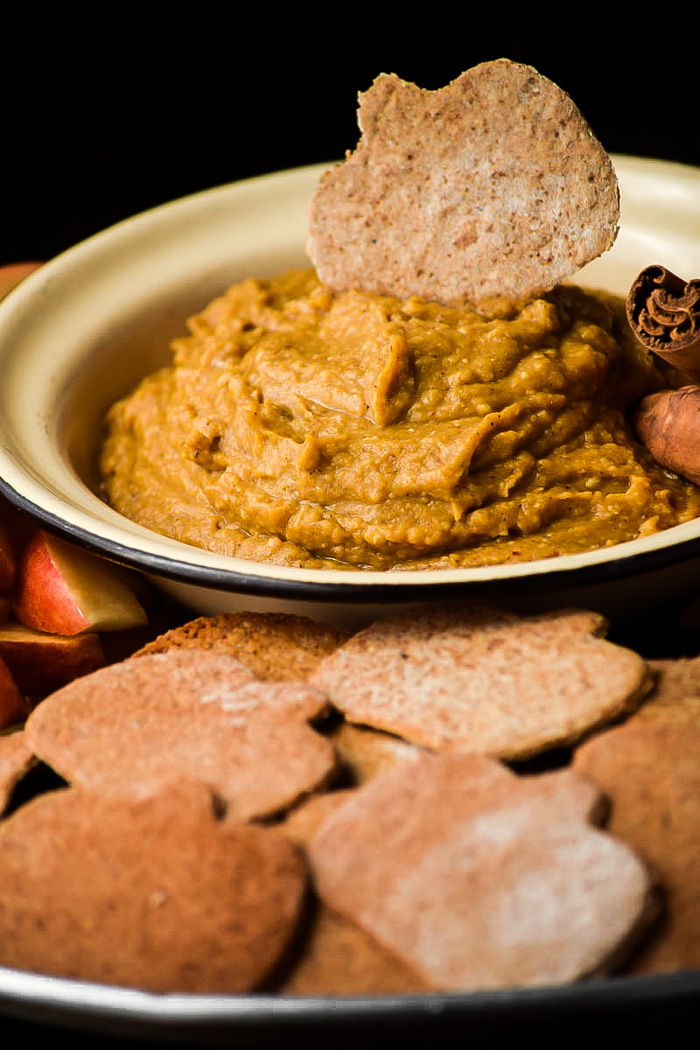 If you think I'm exaggerating, just wait until the end of October. Haha, my brother-in-law has been loving to make fun of me, my sister, and any other American girl that enjoys pumpkin. As he says we're "basic white girls" and apparently that applies to all my fellow Autumn fanatics. Hey, I'm not ashamed to own it because I do love it! I mean, have you seen all the pumpkin flavored things at the store????? How can that not be fun and exciting?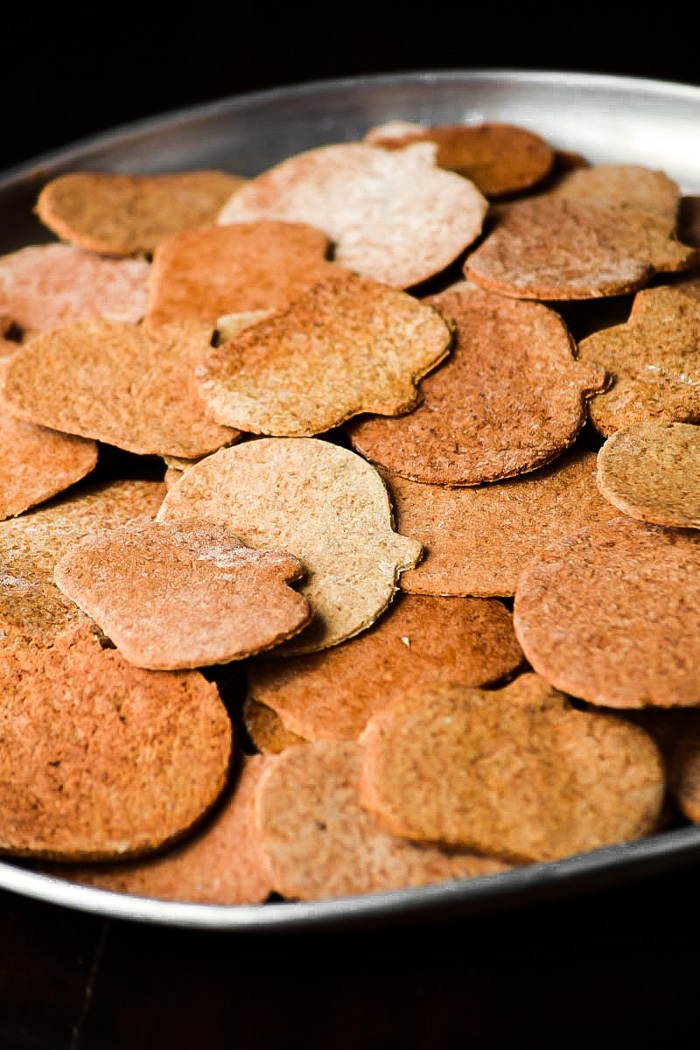 I'm hoping to take my little sister and my nephew to visit a pumpkin patch in early October and I've got some other fun activities too. I don't know about you but this is the time of year that always gets me so excited to get in the kitchen and bake or cook with all the seasonal flavors. Also, I know I'm constantly talking about how fast the year is going by, but I literally can't believe it's almost October. I absolutely love the last months of the year but I kinda wanted more time to look forward to them.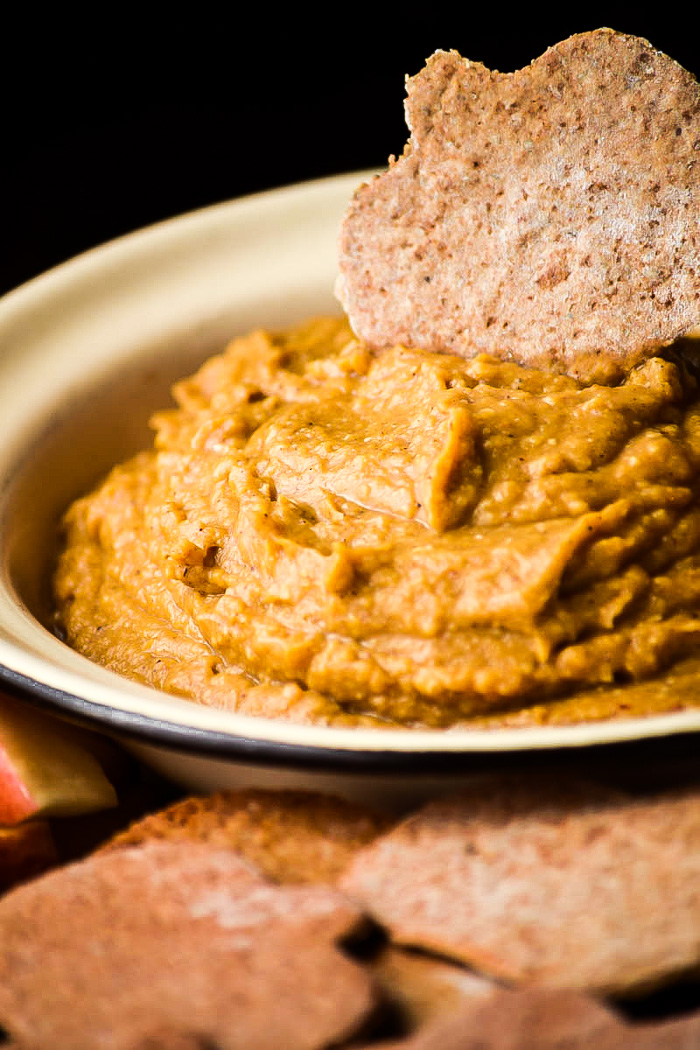 So this recipe is two recipes in one but they go so well together I had to share them in one. If I had to describe this in a few simple words I'd call it deconstructed pumpkin pie (the healthy way). The graham crackers are lightly sweet and made with whole wheat flour. Of course, I had to make them into fun shapes but you can easily simplify and make squares.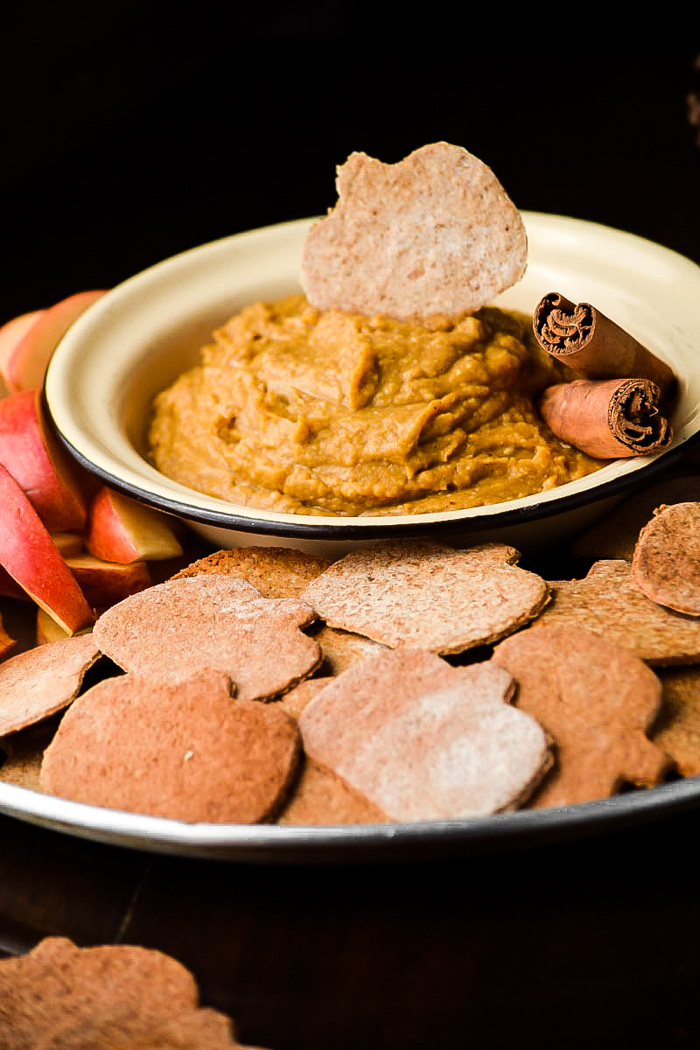 The dip itself is a great way to get the kiddos to eat their beans without even realizing it. Along with the grahams I also love dipping fruit into it, especially if you're serving this at a party or gathering.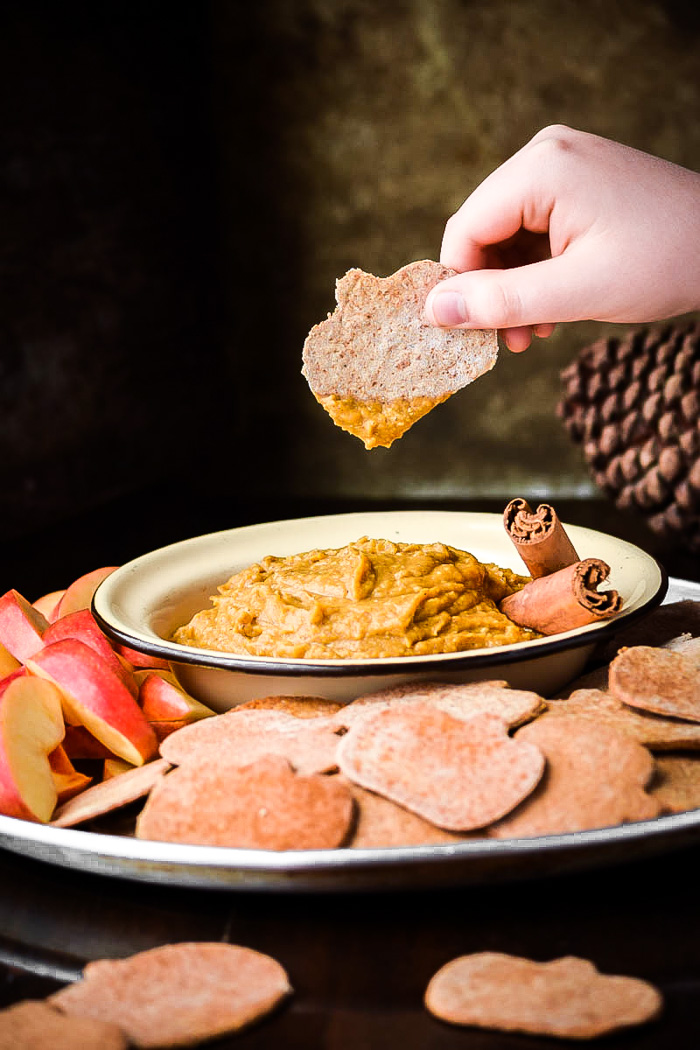 Basically, this is just a great snack and another excuse to eat something pumpkin this season. If you're not a big dipper (lol), then you can also try this a a spread for toast or even make a pumpkin pie banana sandwich! Oh, or maybe a pb+pp (peanut butter+pumpkin pie) sandwich!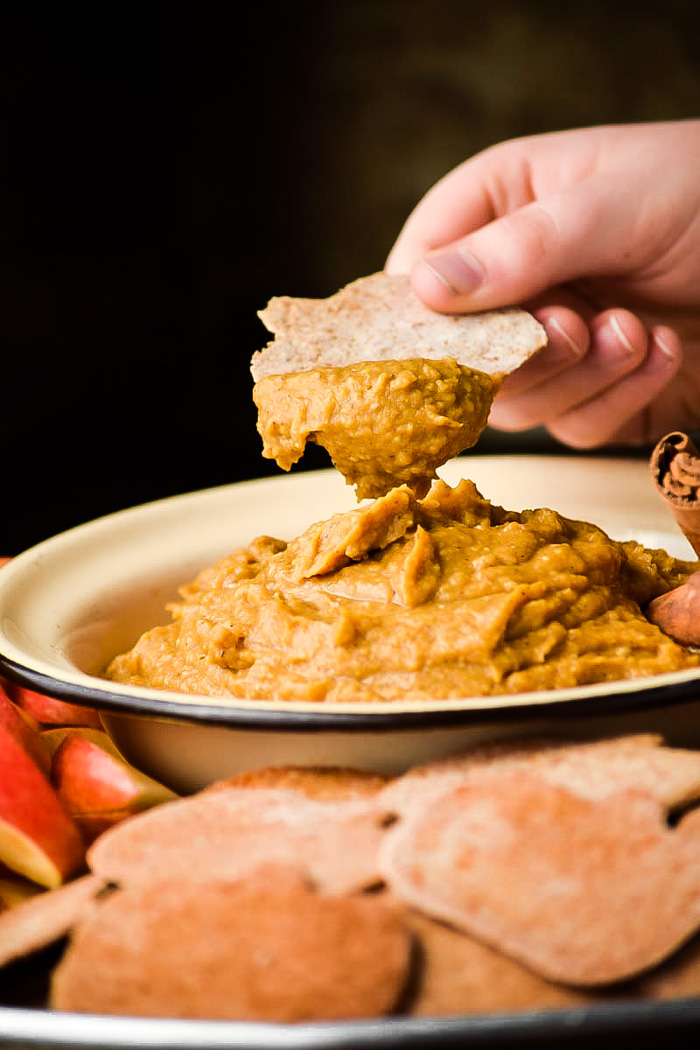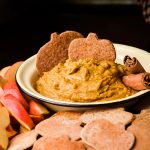 Healthy Pumpkin Pie Spiced Hummus with Cinnamon Graham Crackers (Vegan)
Are you a lover of pumpkin pie? Try this dip with these homemade graham crackers for a healthy version that tastes just like it!
Ingredients
Crackers:
2

tablespoons

coconut oil

2

tablespoons

molasses

1/2

cup

coconut sugar

1

teaspoon

vanilla extract

1

teaspoon

cinnamon

1/2

teaspoon

salt

1

teaspoon

baking powder

2/3

cup

almond milk

1/4

cup

arrowroot powder

or cornstarch, plus more for work surface

2 1/2

cups

whole wheat flour
Pumpkin Spice Hummus:
1/3

cup

hulled pumpkin seeds

pepitas

1/3

cup

pecans

1

15 ounce can garbanzo beans, drained and rinsed

1

15 ounce can pumpkin puree

1/2

cup

coconut sugar

1

teaspoon

cinnamon

1 1/2

teaspoons

pumpkin pie spice

1

teaspoon

pure vanilla extract
Instructions
Crackers:
Preheat oven to 350 degrees F (180 C) and line 1 or 2 baking trays with parchment or silicone baking pads.

Combine coconut oil, molasses, and coconut sugar in the bowl of a stand mixer and beat until combined.

Add baking powder, almond milk, and vanilla, salt, and cinnamon and mix until creamed. Mix in starch and flour just until the dough comes together (you don't want to overmix or the cookies will be tough.)

Divide the dough in half and roll out each half on a lightly floured surface until it's about 1/4 inch tall. Cut into 2 inch squares or cut into desired shapes and place about 1/2 an inch apart on prepared tray. Use a fork to poke holes on top, then place in oven and bake cookies in batches for 10 - 12 just until they are slightly browning on edges.

Remove and cool for at least 5 minutes before serving. (makes about 48 crackers)
Pumpkin Spice Hummus:
Combine the pepitas and pecans in a food processor or blender and blend until finely ground. Now add all other ingredients for the hummus and blend until smooth. If not using immediately, store in an airtight container in fridge for up to 1 week. (makes about 3 cups)