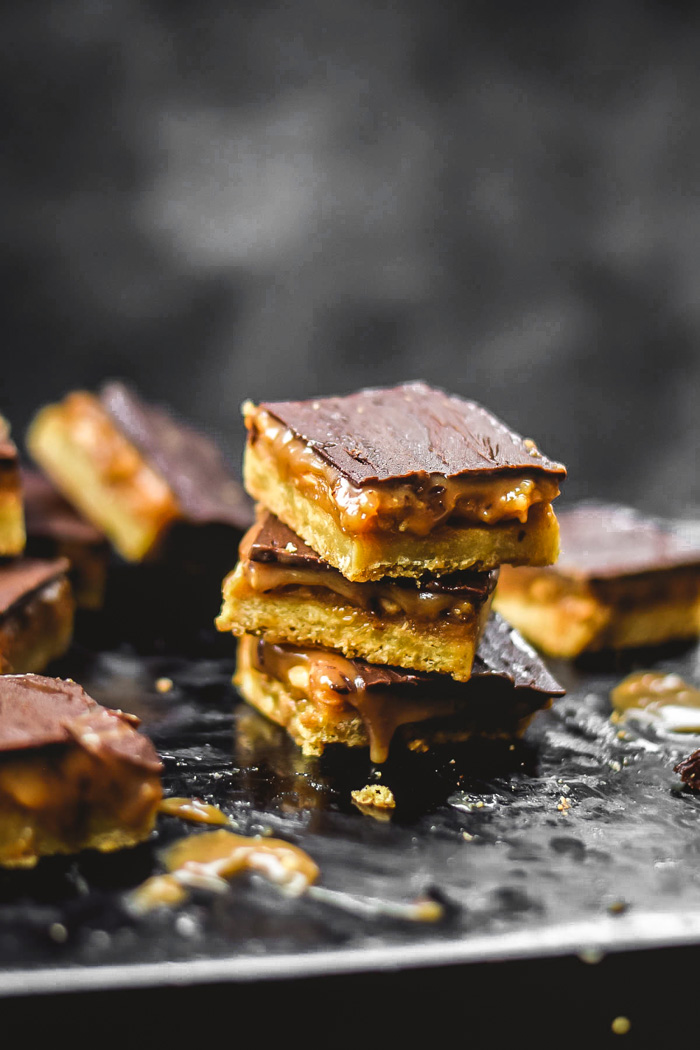 Brown Butter Caramel Snickers Cookie Bars
Hey, Hey, HEY! I've got something to help you guys get over the mid-week slump so obviously that means chocolate is involved!
Oh, and guess what? We got new puppies last weekend! I want to share some pics later this week so I was going to wait to tell you, but I just couldn't. They are absolutely adorables you guys!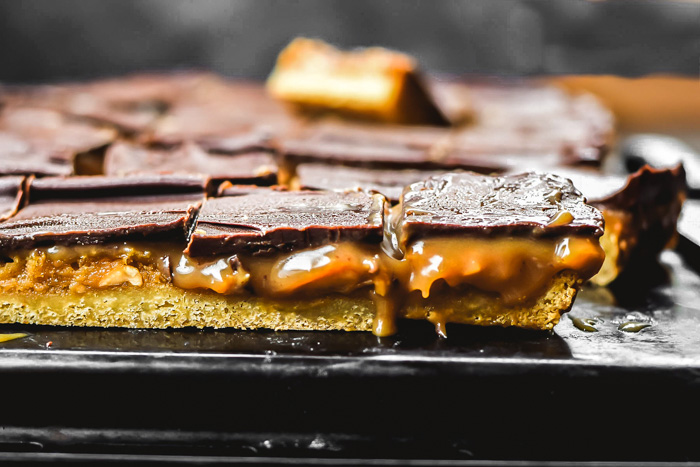 You may remember me mentioning a while back when we got our first two Great Pyrenees pups. No? Well, if not then now you know and I guess it has been a long time now. Whoa, actually now that I think about it it's been a year and a half! Those two boys have way outgrown their puppy stage now and are ginormous, which makes our two new family members (that are both girl pups) seem even that much cuter in contrast. We've been planning to get girls for a while but I had no idea that my parents would surprise us by coming home with them this soon. We're also planning for these girls to have puppies of their own eventually so we'll probably be finding a new home for one of our boys soon since two macho males around is not the best idea when it's daddy time, if you know what I mean.
We completely fell in love with Great Pyrenees as a breed back when we lived in Idaho because at the time we had goats, sheep, and a bunch of other animals on our little family dairy farm. They are incredible as working livestock guardians and even though we don't have any livestock that we're wanting these pups to guard, their instinct to protect a herd makes them equally amazing as family pets. When we moved here it took us the longest time to find someone who breeds them in our area so breeding them ourselves in the future is a possibility.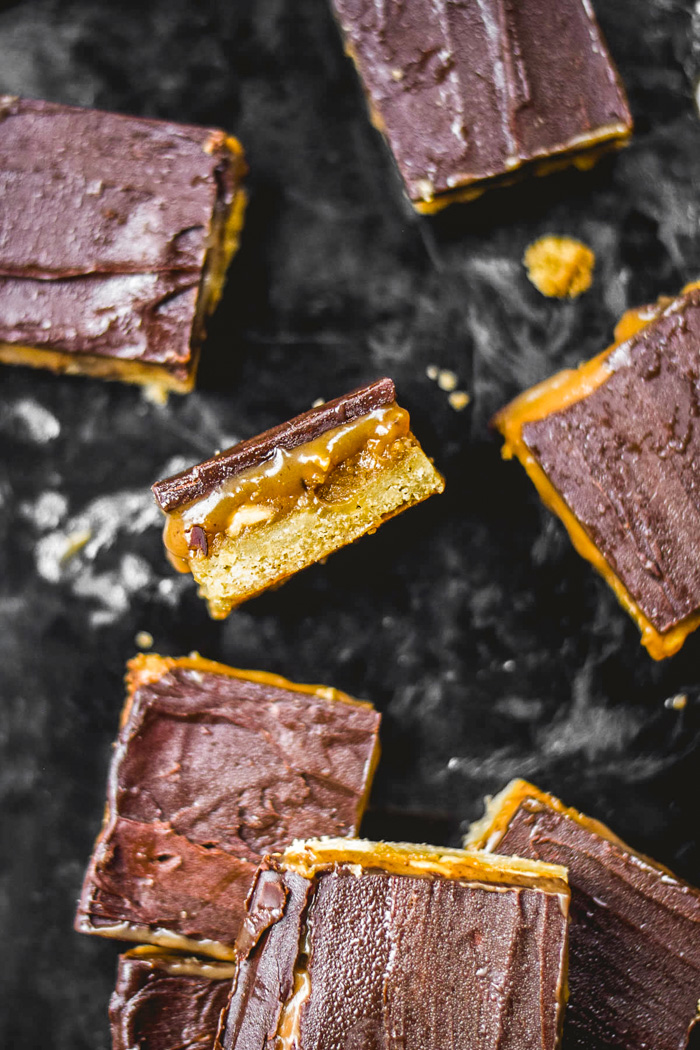 I'll probably share some snaps of them over the weekend. All right, but now I'm shutting up about pups and talking about these amazing cookie bars that you have to try!
So out of all the recipes that I've made for the blog my homemade snickers bars have been near the top of my family's favorites list for the longest time. If I do say so myself, they're pretty much amazing and as close to perfection as I can imagine. There are two minor downsides to them though. One, is that they are a little bit more time-consuming to make than most other desserts since and like to use homemade marshmallows, and two, they are so amazingly rich that it can almost be too much for some people's taste. That's why I came up with this hybrid cookie bar inspired by them, and it's a dangerous thing.
You see, adding a layer of cookie helps break up the richness and makes it much easier to eat more than you should. Like I said, dangerous. These have four different layers and the first two have to be baked and chilled before adding the second two, but if you can just have a tiny bit of patience with them guys, they are so worth the extra time.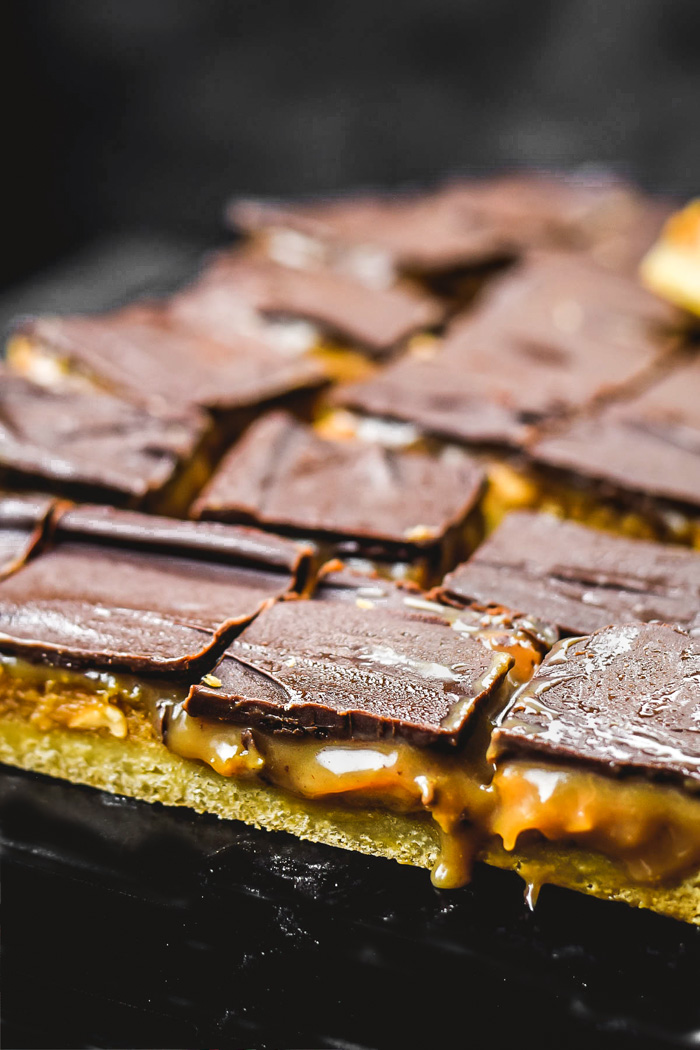 Also, I'm so excited about this brown butter caramel for this upcoming holiday season! I can already tell you it's going to be my go-to all season long and probably way after that. Who knew that browning the butter and then making the caramel could be this delish!
I've tried a few variations on the filling and the cookie base until I decided this version was the best. Each test was good, but these were what I was going for. If you need something new and different to impress the guests or maybe you are just inspired to try a new crazy decadent treat, these are the answer. I may even go as far as saying they are the best cookie bar ever!