Chunky Dark Chocolate Coconut & Pistachio Brownies
The pistachios are back!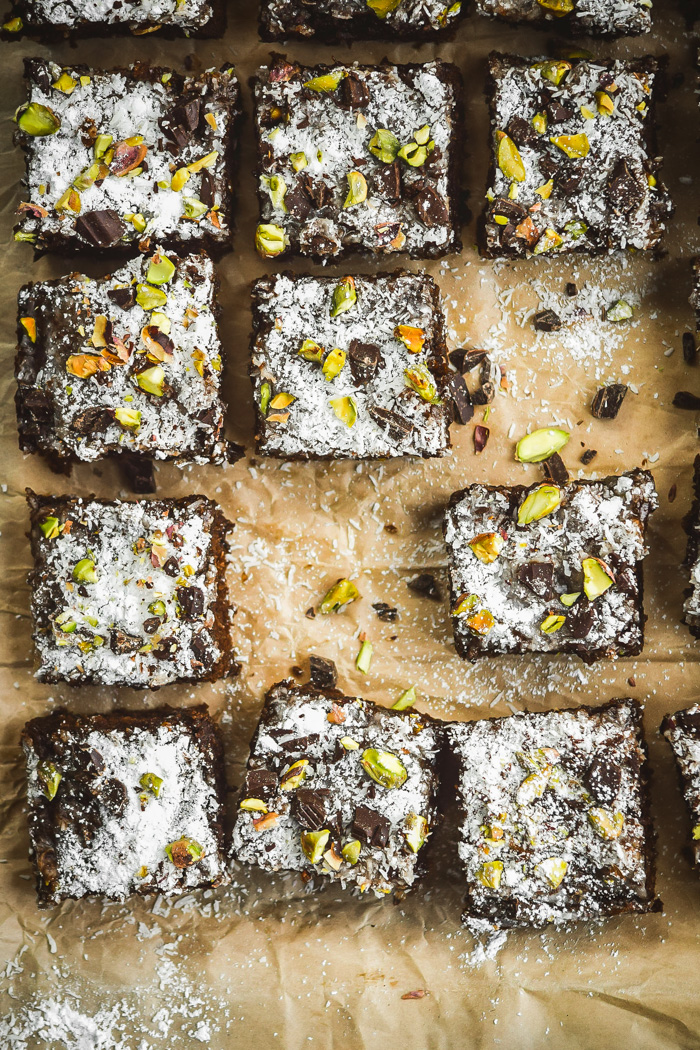 I feel like I've been repeating star ingredients a lot lately but pistachios are kind of new for me since we only recently found where we can buy them. Of course, they're raw in shells so you have to crack them, and after going through the effort of shelling a bunch you feel like you should get the most out of your labor of love, you know what I mean?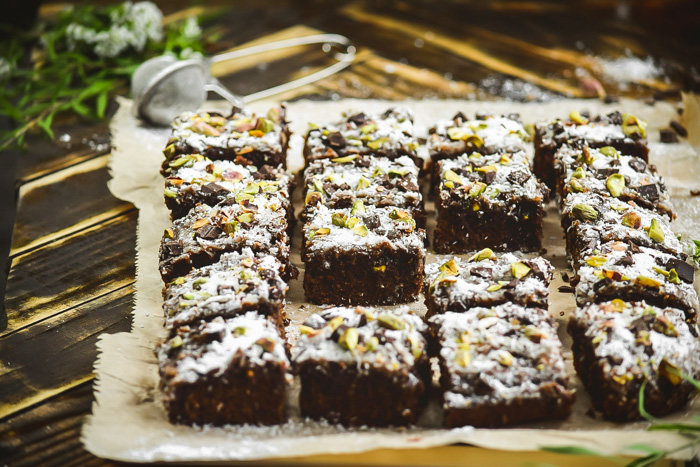 By the way, happy (almost) March you guys! Wow, is the year breezing by or what? I can't believe it's already almost time for the seasons to start changing again. Actually, our constant chilly rain the last few days is making me think that they already have for us down here. Major sad face. I feel like adding a snarky comment about global warming here but my better judgement is telling me that I probably shouldn't. Yes, I shall refrain.
I'm kind of having a crisis right now you guys, over the fact that berry season has almost passed and I literally have not had a chance freeze a single raspberry. It's partially due to me being crazy busy the last two months and the weather being so wet, but another huge reason is that our favorite produce market hasn't had them. All of the large companies are exporting them more than ever to larger economies that pay more. Stingy, so-called, first world countries hogging all the berries! Just kidding…..kind of. (Dear Costco shoppers, please appreciate your beautifully packed raspberries for me.)
Okay, silliness and ranting aside, I have to tell you about these wondrously amazing brownies that seriously taste just like almond joys, but with pistachios instead of almonds (which I think I prefer to almonds). My sis Lela is a huge fan of almond joy candies and she completely flipped over these. I honestly don't remember the last time she raved over a recipe like that because she's usually not super interested in food compared to the rest of my family. That's why I feel confident in heavily insisting that you try them. Everyone liked them so much that I've already made them a few times since the trial batch.
The key ingredient here, and one that I probably overuse in my recipes, coconut milk baby! You put the creamy stuff in the brownies and the icing and it gives them this epic, yet somehow mild, coconut flavor like you won't believe! Are you drooling yet?
So the problem with adding milk, or any liquid to a baked goods is that it makes them more cakey, but coconut milk is so rich and creamy that it's not a problem. Another thing that keeps these extra soft and fudgy is that you pour the icing on while the brownies cool and it helps keep in the moisture. I used a more liquidy icing the first time I made these and it was so good, but it resulted in brownies too messy to be eaten without a fork so I sut back a little and I think I found the perfect ratio.
I will add a note to the bakers that you really want to flour your pan well. I rarely flour my pans and I'll often skip it when I occasionally use an old cake recipe, but if you want your brownies to have their bottoms after you cut them I recommend this step. Other than that these are pretty straight forward and they're as easy as any brownie to throw together. These are definitely what you need to make next time your sugar cravings hit.
[amd-zlrecipe-recipe:567]